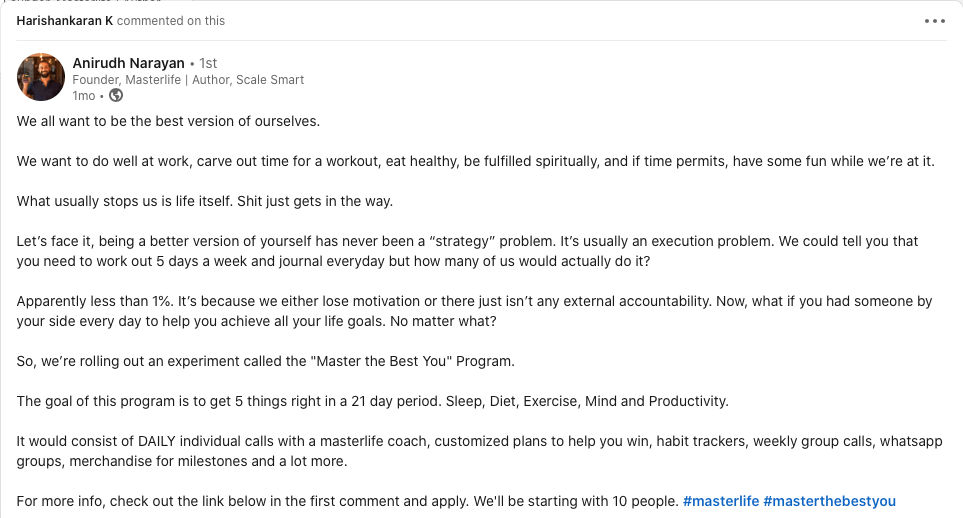 It all started with a simple post while scrolling LinkedIn. This sounded very interesting when I read the post. I liked the five categories of sleep, diet, exercise, mind, and productivity. Also, the fact that it was 21 days gave me the confidence that if I can do something for those 21 days, I might be able to continue the habit even after the program ends. I was overall intrigued by this and thought of this as an early experiment. My assumption was that instead of all 5, even I get my routine better in two or three items, then it is worth spending some money.
The first call was with Remya and Anirudh. This is to understand my sleep, diet, and work patterns. This is also when they decide the goals for the next 3 weeks. In my case, I wanted to reduce my screen time, have my food outside my workstation, and walk every day. Also, one other expectation is that my screen time should reduce (at least by the amount of time I take to eat breakfast, lunch, and dinner). At the end of the call is when I realized that this whole three-week program is going to start very soon. There was a small nagging feeling to cancel the whole thing and get back to the status quo. Even taking away a few minutes from work every day felt impossible and the excitement is replaced with nervousness.
Then started the 15 minutes every day check-in calls from Remya. Of course, this sounds a little close to showing your work to the teacher in school every day. At first, it also felt a little weird to see a bunch of 'No' in the tracker sheet. There were times I used to get something done before midnight so that I can make it as 'Yes' in our tracker document.
| Week -2 | Week -1 | Week 1 | Week 2 | Week 3 |
| --- | --- | --- | --- | --- |
| 15h 23 m | 15h 31 m | 13h 34 m | 13h 28m | 13h 3m |
hours of screen time per week
The reduction in screen time is mainly because of the time I spent eating and walking. Before this program, my lunch and dinner were along during a zoom call or while reading emails or just listening to something. But during the three weeks, I was able to carve out some time to have food at my dining table and not along with my work.
Of course, there has been a lot positive changes on the amount of time I spend walking. This is usual time to come back to normal at the end of all meetings.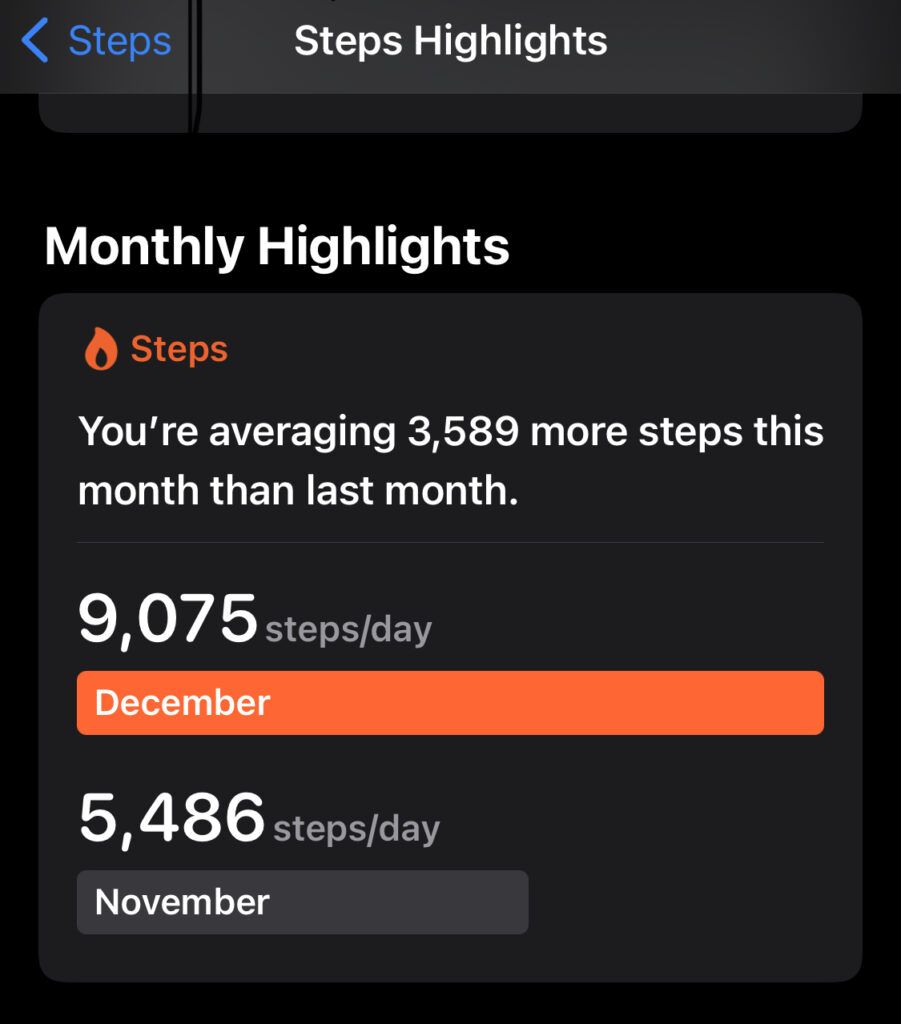 | Week -2 | Week –1 | Week 1 | Week 2 | Week 3 |
| --- | --- | --- | --- | --- |
| 5251 | 3690 | 7673 | 10,003 | 11, 952 |
steps count every week
Like any other experiment, it wasn't all great. There were some goals that I couldn't meet. One of the five goals is to meditate for 10 minutes before the start of work. But given the odd sleep timing, it wasn't possible to achieve this every day. Probably something to think about in 2021. Overall, I'm super happy about trying this experiment. I don't plan to reduce the screen time further. Maintaining this at this stage is going to be the goal for H1 2021 :-). Eating without work and walking have been the two top items I wanted to achieve with this program and I'm glad I was able to make that happen.
Big thanks to the master life team and Remya for making this happen. Looking forward to working with them in 2021.